Oldroyd Xv
Cavity drainage membrane for waterproofing cellars and basements (BS8102 Type C)
For use in Basements, Tunnels and on Floors
BBA approved
Clear for ease of situating fixings into substrate
'X' pattern to allow easy folding and cutting
Gas & Radon barrier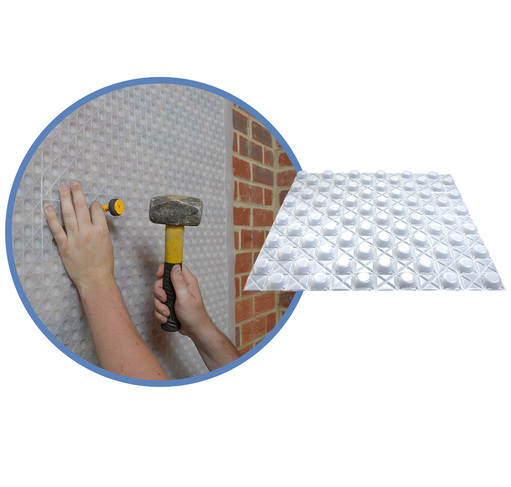 Oldroyd Xv Cavity Drainage Membrane
Oldroyd Xv is a dimpled drainage membrane (also known as a cavity drainage membrane) for basement and cellar waterproofing applications.
Typically it is applied to the inside walls and floors of the basement to redirect any water passing through the basement structure towards a sump and pump.
Special sealed fixing plugs (Oldroyd Brick Plugs) are used to fix Oldroyd Xv to the basement walls. When used on floor areas no fixings are required. Sections of Oldroyd Xv are joined using Oldroyd Double Sided Tape and Oldroyd Overseal Tapes.
Available in Black or Clear
Oldroyd Xv is available in Black or Clear:
Oldroyd Xv Clear has the advantage of allowing the underlying basement structure to be seen when installing fixing plugs.
Oldroyd Xv Black utilizes Oldroyd's multi-layer technology to allow up to 70% recycled plastic to be incorporated in the membrane with no loss of performance.
BS8102
Oldroyd Xv is suitable for use in creating a Type C (drained protection) waterproofing system as defined in BS8102 (2009) "Code of practice for protection of below ground structures against water from the ground"
Oldroyd Xv Downloads
Other Oldroyd Products