Vandex BB75
High performance tanking slurry for waterproofing cellars and basements
Two coat application
Waterproof up to 7 bar water pressure
BBA Approved
CE Certified
Suitable for application to basement walls, floors, and soffits
Easy application by trowel, spray or brush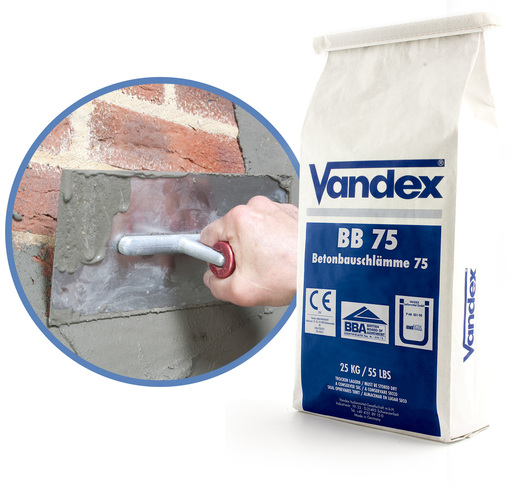 Vandex BB75 waterproofing slurry
Vandex BB75 is a tanking slurry (also known as a waterproofing slurry) for basement and cellar waterproofing applications. It is suitable for application to basement walls, floors, and soffits by trowel or spray. Vandex BB75 can be applied to concrete and masonry surfaces, however it is important to download and read the "Application Guidelines" for details of correct surface preparation and application requirements.
In basement refurbishment applications, Vandex BB75 is normally applied to the internal walls and floor of the basement. In new-build applications it can also be applied to the external wall of the basement.
When choosing a tanking slurry for below-ground use, it is important to ensure that it is capable of withstanding the high levels of water pressure that can come to bear on the basement structure. Vandex BB75 has been thoroughly tested by test institutions around the world, including the British Board of Agrement (BBA), and has been approved for use below ground.
Application of Vandex BB75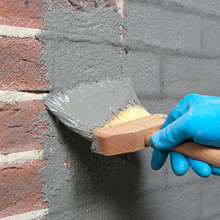 Brush Application
Vandex BB75 can be applied using a suitable brush (e.g. mason's brush). It should be applied from the bottom upwards, at which point the excess material is worked sideways. Ensure that all cavities in the substrate are filled in order to exclude any trapped air.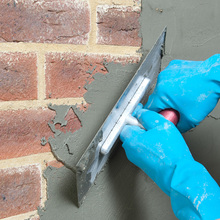 Trowel Application
Vandex BB75 is applied in one or two layers as specified. If two layers are applied it is recommended that the second layer is applied whilst the first layer is still damp on the surface.
A scrape coat of Vandex BB75 is required to make sure cavities and air holes are filled.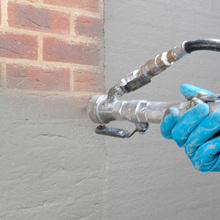 Spray Application
Vandex BB75 can be applied with a suitable fine mortar spraying device. The amount of material required and the air used must be adjustable so that the optimum spray pattern can be achieved. The nozzle diameter should be approx. 6 mm, depending on the spray gun used.
Vandex BB75 Downloads
Other Vandex Products