Vandex Unimortar 1
Repair mortar and high-build tanking slurry for basements
One coat application
BBA Approved & CE Certified
Resistant to frost and deicing salts
Suitable for vertical and horizontal surfaces
Easy application by trowel or spray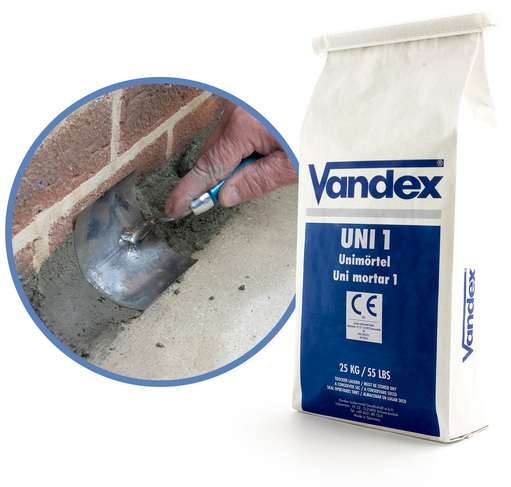 Vandex Unimortar 1 Waterproofing repair mortar
Vandex Unimortar 1 is one of the most versatile products in the Vandex range. It has three key uses in basement waterproofing applications: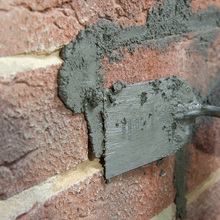 Repair mortar for concrete and masonry
For successful application, Vandex tanking slurries need to be applied to an even surface. For this reason it is often necessary to repair any voids etc… in the concrete or masonry. Vandex Unimortar 1 is ideal for this application. Where concrete is being repair Vandex Unimortar 1 complies with the required European Norm (EN1504-3) for use as a concrete repair mortar.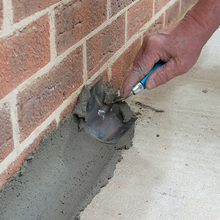 Formation of a fillet at the wall-floor junction of the basement
In basement construction, the wall-floor junction is widely regarded as being particularly vulnerable to water ingress. For this reason additional waterproofing protection is usually specified in this area. Forming a fillet using Vandex Unimortar 1 provides a simple means of providing this additional protection.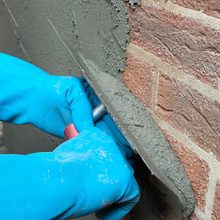 High-build basement tanking slurry
Most basement tanking slurries have to be applied in two or more coats – increasing the time it takes to get the job finished.
Vandex Unimortar 1 can be applied in a single coat – saving time, particularly on small projects such as lift pits and under-pavement vaults.
Vandex Unimortar 1 Downloads
Other Vandex Products