Vandex Super
High specification basement waterproofing slurry, specifically developed for concrete structures
Crystalline in-depth waterproofing
Excellent coverage
Apply via brush, spray or dry sprinkle
BBA Approved
CE Marked
Waterproofing up to 14 bar water pressure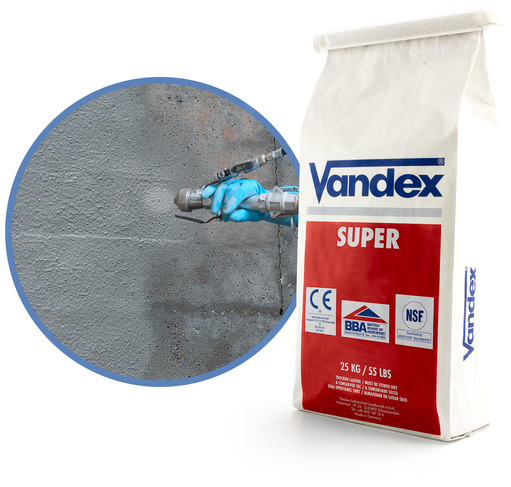 Vandex Super Crystalline Concrete Waterproofing
For many reasons concrete is the material of choice for the construction of modern basement structures. Vandex Super has been specifically developed to provide in-depth waterproofing of concrete and has been used around the world to waterproof concrete basements.
The waterproofing properties of Vandex Super have been independently tested by various international test houses including the British Board of Agrement (BBA). Despite its high level of waterproofing performance, Vandex Super is economical to use due to its high coverage rate per bag.
Due to its ability to resist high levels of water pressure, Vandex Super can be used to waterproof concrete basement structures internally as well as externally. It can be used to waterproof basement floor slabs as well as basement walls.
Vandex Super Downloads
Other Vandex Products